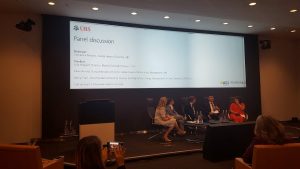 "Thank you for pulling together such a great event."  "Thanks – it was fantastic!"  "I just wanted to say thank you [for] an amazing evening last night"  Just some of the feedback from this great industry event.  On the longest day of the year – and a glorious summer's day in the City – delegates gathered at the fantastic UBS Auditorium in Broadgate Circle to hear from Julia Hoggett, FCA – and a panel of industry speakers – on the question of achieving greater diversity and inclusion in financial markets workplaces and to debate whether diversity 'targets' are motivated more by a desire to be seen to be doing the 'right thing' and less by the tangible commercial benefits of a truly inclusive workforce? The panel also discussed whether the focus on gender equality has overshadowed Age, BAME and LGBT diversity challenges.
Julia Hoggett, Director, Market Oversight Division, FCA gave a personal, impassioned and amusing account of her own experiences in her career in financial markets before joining a panel of market practitioners, including Kevin Arnold, Group Managing Director, Global Head of Relationship Management, UBS; Henry Chen, Vice President, Enterprise Services and Regulatory Change, Barclays and Co-Chair, Interbank LGBT Forum and Cathryn Lyall, co-founder of Seismic Foundry and Women In Listed Derivatives (WiLD) and moderated by Carolanne Minashi, Global Head of Diversity, UBS for what was a lively and informative debate.
The debate continued long after the formal proceedings ended at the cocktail reception hosted by UBS, and the feedback from participants – delegates and speakers – has been astonishing!  ACI UK is enormously proud to have been able to put together this fabulous event with UBS and Interbank LGBT Forum and will be looking at how we continue to highlight and promote diversity and inclusion in financial markets.
Edited highlights of the debate will be made available in due course.